FCY system by SBG in Japan and Asian race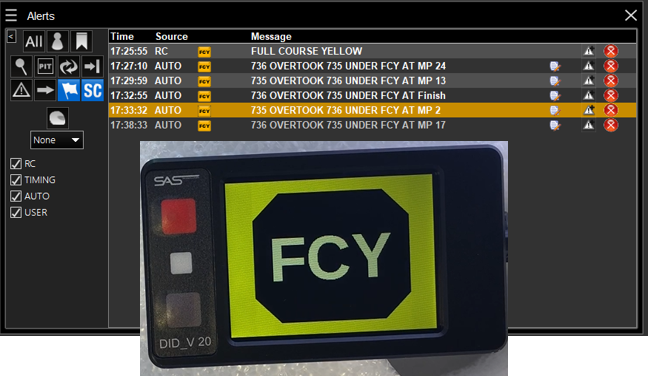 SBG is now offering the Full Course Yellow (FCY) application system for major domestic and Asian races.
In accordance with the provisions of Appendix H of the FIA ​​International Sporting Regulations,
the FCY has already operated the SBG system in overseas race categories represented by WEC and Formura E.
In the future, in Japan as well, Super GT and Super Formula are scheduled to operate
Full Course Yellow from 2020.
SBG is preparing for the introduction at this timing.
Full Course Yellow (FCY)
Regarding the procedure of introduction, the chief of race declares full course yellow when safety reasons occur
during the final race, such as when the vehicle is stopped on the side of the course and processing work is being performed.
Then, the timing monitor, race control radio, and the display installed in the cockpit of each machine will start a 10-second countdown
before the introduction of FCY.
Immediately after the declaration, the FCY board will be presented at all posts in the course,
and overtaking is prohibited from this point.
The driver starts preparing for deceleration from the racing speed while checking the safety of the surroundings.
Ten seconds after the board is presented, all posts will be presented with a yellow flag,
and from this point the maximum speed on the course will be 80km / h and the speed will be monitored.